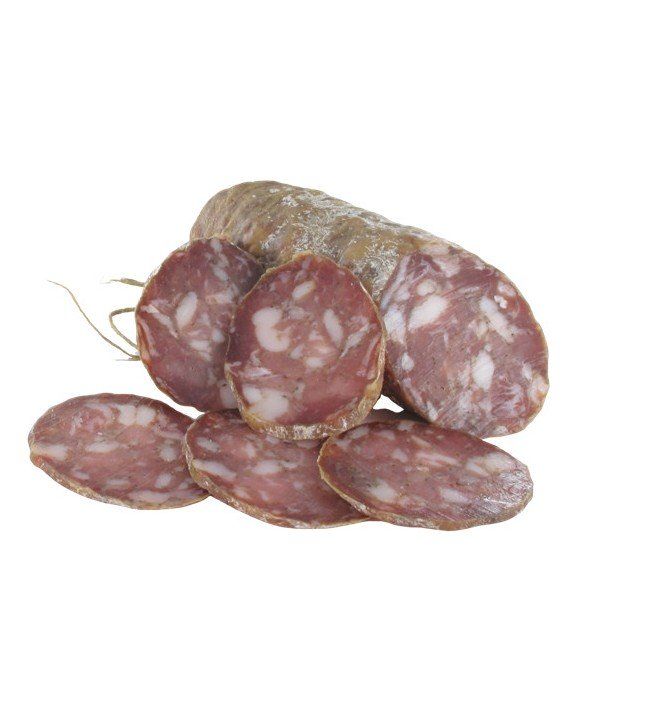  
Corsican sausage
Artisanal Corsican sausage made exclusively from Corsican pork. Lightly smoked over a wood fire and then matured in a cellar for several months. Vacuum-packed for a better conservation. Made in Corsica.
Composition : Pork lean and fat, salt, spices, sugar, E252, flavours.
Weight: ≃ 200g
Corsican sausage
The Corsican sausage is a dry Corsican sausage very appreciated by the fine gourmets, nothing to do with a traditional dry sausage, its taste is so particular that it rarely remains in the plate. We advise you to take it out of its packaging a few hours before tasting, this will allow the sausage to breathe and to bring out all its aromas.
Manufacture of the Corsican sausage
The Corsican sausage is a sausage elaborated from lean and fat of pig, dried and seasoned, put under natural gut and tied, then slightly smoked to be finally refined in cellar during several months. The manufacturing process is based on a traditional know-how kept secret by the islanders. That said, a thick skin (casing) and the presence of a slight mould (natural flower) is the guarantee of a quality artisanal Corsican sausage. If you wish to treat yourself, do not hesitate any more and make the choice of quality!
How to taste the sausage
The Corsican sausage is generally tasted in thin or thick slice, in the aperitif or in entry in the form of sheet for example. However, for the purists, we recommend to accompany it with a cheese of ewe, jam of fig and a good glass of heady red wine. It can also decorate the sauce of your stews, your pasta, your peas, your lentils, your pizzas, your risottos or your raclettes... The Corsican sausage is also the favourite dish when you are out and about, the famous snack of sausage, gherkin and butter. Mostly appreciated quite dry, some prefer it younger and tender, all will thus depend on its time of refining.
How to preserve the sausage
The Corsican sausage is preserved in a fresh, dry and airy place. Wrap your piece in a cloth and place it in the fridge. Don't worry, the Corsican sausage is meant to be kept for a long time, an additional maturing time will allow to obtain an even more exceptional taste. In case you want to dry it more, it is possible that mold appears, which is quite normal, you will just have to pass a paper towel.
Join us on Facebook for news, events and to share with a community in love with Corsica! Thanks to all of you! CorseBoutique, the flavours of authentic Corsica!
Data sheet
Net weight

≃ 200g

Packaging

Sous-vide