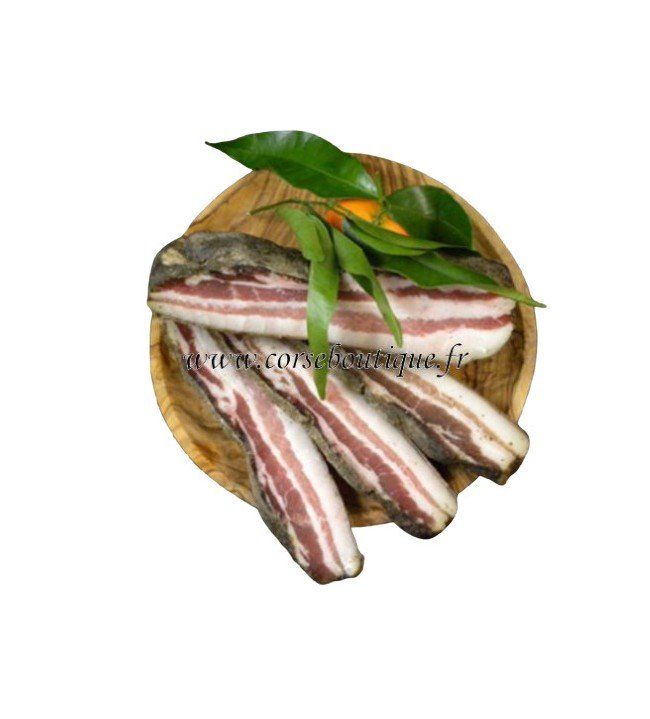  
Panzetta
Composition: Pork belly, salt, pepper, then slightly smoked.
Weight: ~400g
Fresh product vacuum packed for a better conservation.
The panzetta is a speciality of the Corsican pork-butchery. To consume with moderation.
Panzetta di Corsica a basic ingredient!
The panzetta is made in Corsica from pork belly, then salted and peppered and lightly smoked. After this manufacturing phase, the panzetta is matured in our cellars for several months.
How to taste the Corsican panzetta?
The cooked panzetta is often grilled in slices of 1.5cm to 2cm in the pan, on the barbecue or in a fireplace, accompanied by fresh bread, a red wine "Orenga de Gaffory" and a Corsican cheese, it is a real treat. It can also be used in a multitude of preparations, such as: potatoes, gratins, stews, pies, pizzas, soups, sauces, risotto... It will delight you with its firm and melting texture! Panzetta can also be fried with eggs in a pan. It will gladly replace your bacon.
Tip: you can accompany your panzetta with figatellu, their flavours go perfectly together! It is obviously a basic ingredient of the Corsican cuisine, it will bring an exceptional flavor to many of your dishes.
The conservation of the panzetta?
It is recommended to store it in a cool, dry and ventilated place.
Some recipes based on panzetta di Corsica:
Recipe of the Corsican fougasse (4 persons):
500g of flour, 150g/200g of Corsican tomme, 12 slices of panzetta of 1cm, 20 pitted black olives, 30cl of warm water, 1 tablespoon of Provence herb, 1 onion, 20cl of olive oil, 2 packets of baking powder, 2 pinches of salt.
1. Dissolve the yeast in a glass of lukewarm water and set aside for 15 minutes.
2. Put the flour and salt in a bowl and mix. Make a well, pour in the yeast and some of the water
3. Knead the dough, adding water and olive oil little by little, until you get a homogeneous dough. Cover it with a cloth and let it rise.
4. Take the panzetta and slice it, so as to make nice lardons. Then in a hot pan with a little olive oil, brown the panzetta lardons. Set aside.
5. Finely chop the onion and brown it in the fat of the lardons. Set aside.
6. Cut the olives into small pieces and grate the Corsican tomme. Set aside.
7. Flour your work surface to work the dough, knead it and don't hesitate to add flour if necessary.
8. Roll out the dough and place the ingredients on top: lardons, onions, olives, half of the tomme cheese and herbes de Provence. Then fold the corners in the centre to close and form the shape of a focaccia (oval).
9. Preheat your oven to 250°C, place your focaccia on greaseproof paper, slash it and spread the slashes apart.
10. Brush the focaccia with olive oil and put it in the oven for 20 to 30 minutes.
Tip: You can put the pan with water underneath your baking sheet, the crust will be even crisper.
Enjoy this focaccia as a starter, a main course or as an aperitif, an original recipe that will delight your taste buds, your friends and your family!
Recipe of the Corsican soup (6 persons):
300g of panzetta, 1kg of fresh broad beans, 400g of potatoes, 200g of leeks, 400g of onions, 200g of chard, 200g of young carrots, 100g of dandelions, 100g of borage, 3 cloves of garlic, 3 tablespoons of olive oil, salt, pepper.
1. Clean the leeks and chard, sort out the dandelions and borage, peel the beans, potatoes, onions and carrots. Dice all the vegetables.
2. In a pot of cold water, place the panzetta cut into 6 pieces and bring to a boil over high heat. Skim off the foam, cover and leave to cook for 1 hour.
3. In another pot, add the olive oil and melt the onions without browning them. Then add the leeks for a few minutes, followed by the other vegetables and the garlic (peeled / degermed).
4. Pour the panzetta cooking water over the vegetables and the panzetta pieces, add salt and pepper. Bring to the boil and leave to cook for 1 hour and a half over low heat.
5. You can serve and accompany this soup with dried bread slices.
I invite you to come and discover other flavours of our land, the Corsican charcuterie or the Corsican cheese!
A proposal which is not refused! CorseBoutique, the best of Corsica. Thanks to all!
Data sheet
Net weight

≃ 400g

Packaging

Sous-vide