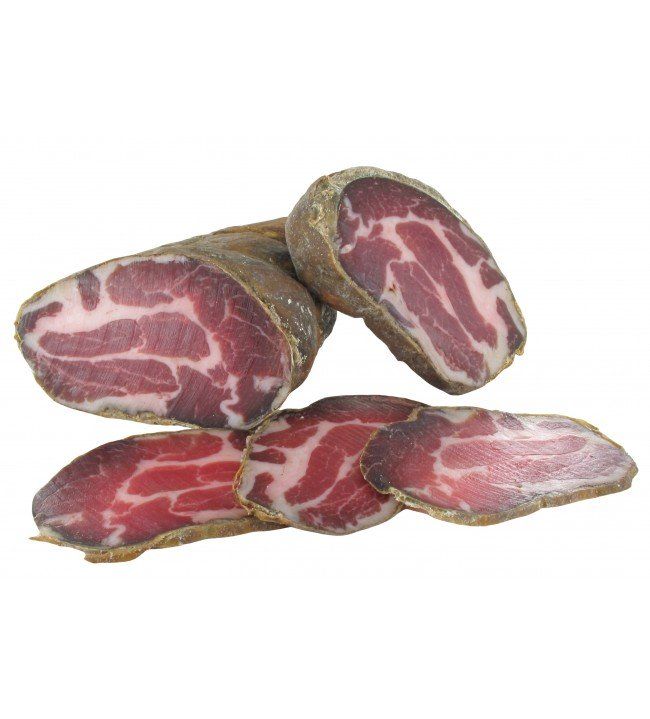  
Coppa
Artisanal coppa, lightly smoked over beechwood and matured in our cellars for several months. Vacuum-packed for better preservation. Made in Corsica.
Composition: Pork loin, salt, spices, wine.
Coppa, a Corsican expression
In Corsican households, particular care is taken to preserve coppa, which is most often eaten on feast days. On the island, we say: "U tene cume à coppa di u venari santu! ". Which literally means: "He pays attention to it as to the coppa of Good Friday".
How Coppa Corse is made
Coppa Corse or Coppa di Corsica is a cured meat product of Corsican origin, made from boned, dried and seasoned pork loin, wrapped in natural gut and tied, then smoked over beech wood and matured in a cellar for several months. The manufacturing process is particularly long, but that's what gives it such a delicate texture and taste - not to be outdone, this quality is the result of generations of traditional craftsmanship. One pig makes two coppas, which explains why this piece is so highly prized and sought-after. So go ahead, choose quality!
How to eat Coppa
Coppa is generally eaten sliced as an aperitif or starter, accompanied by a salad, sheep's milk cheese and a glass of good red wine. It can also be served with pasta, peas, lentils, pizza, risotto or raclette... Coppa is also the king of picnics and snacks for friends and family, simple and effective. Mostly appreciated dry, some prefer it young and tender, so it all depends on how long it's been aged.
How to store Coppa
Coppa should be stored in a cool, dry, well-ventilated place. Wrap your piece in a tea towel and place it in the fridge. Don't worry, Coppa is meant to be kept for a long time: extra maturing time will give it an even more exceptional taste. However, in my experience, it's very rare for a piece of Coppa to stay in the fridge for very long.
Join us on Facebook for news, events and to share with a community in love with Corsica! Thanks to all of you! CorseBoutique, the flavors of authentic Corsica!
Data sheet
Packaging

Sous-vide