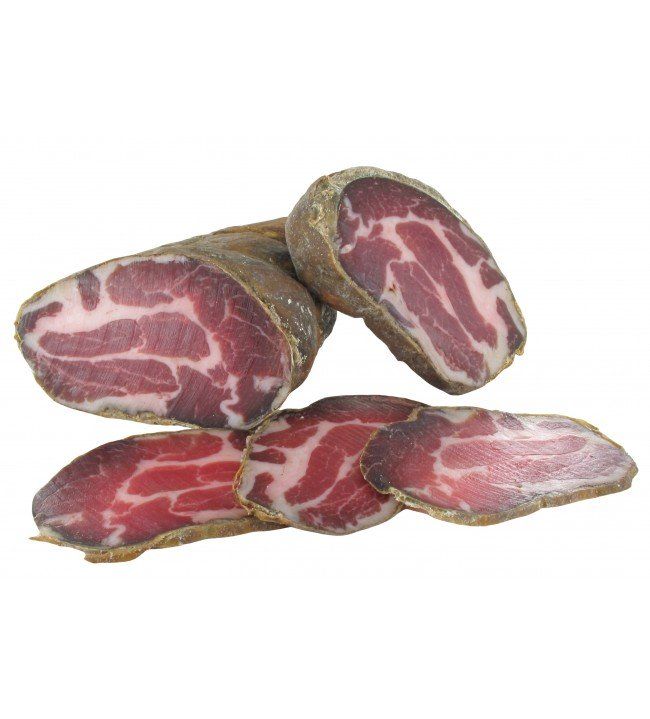  
Coppa
Artisanal Coppa made from Corsican-bred pork exclusively. Smoked lightly in beech wood and then refined in the cellar for several months. Vacuum-packed for better preservation. Made in Corsica.
Composition: Pork loin, salt, spices, wine.
Weight: ≃ 700g
La Coppa, a Corsican expression
In Corsica, households pay special attention to the conservation of coppa, which is most often consumed on festive days. On the island, to talk about an object that we care about a lot, we say: "U tene cume à coppa di u venari santu!". Which literally means: "He pays attention to it like the Good Friday coppa."
Making the Coppa Corsica
The Coppa Corse or Coppa di Corsica is a salting of Corsican origin made from boneless, dried and seasoned pork loin, put under natural casing and tied, then smoked with beech wood to finally be refined in the cellar for several months. The manufacturing process is particularly long but this is what gives it this texture and taste so delicate, not to displease, this quality is the result of a traditional and artisanal work of several generations. A pig makes two coppa, which is why this piece is particularly appreciated and sought after. So don't hesitate and make the choice of quality!
How to taste Coppa
Coppa is usually eaten as an aperitif slice or as an appetizer with a salad, a sheep's cheese and a good glass of red wine. It can also garnish a pasta dish, peas, lentils, pizza, risotto or raclette... The Coppa is also the king piece for picnics and snacks with friends or family, simple and effective. Mostly appreciated dry, some prefer it younger and tender, so it will depend on its ripening time.
How to keep the Coppa
The Coppa can be kept in a cool, dry and airy place. Wrap your piece in a tea towel and place it in the tray of your refrigerator. Rest assured, the Coppa is intended for long-term preservation, an additional maturation time will allow the obtaining of an even more exceptional taste. However it is very rare that the piece of Coppa stays in the refrigerator for a very long time, believe my experience.
Join us on Facebook to find out what's new, what's going on and how to share it with a love community in Corsica! Thank you all! CorseBoutique, the flavours of Authentic Corsica!
Data sheet
Net weight

≃ 700g

Packaging

Under-vacuum