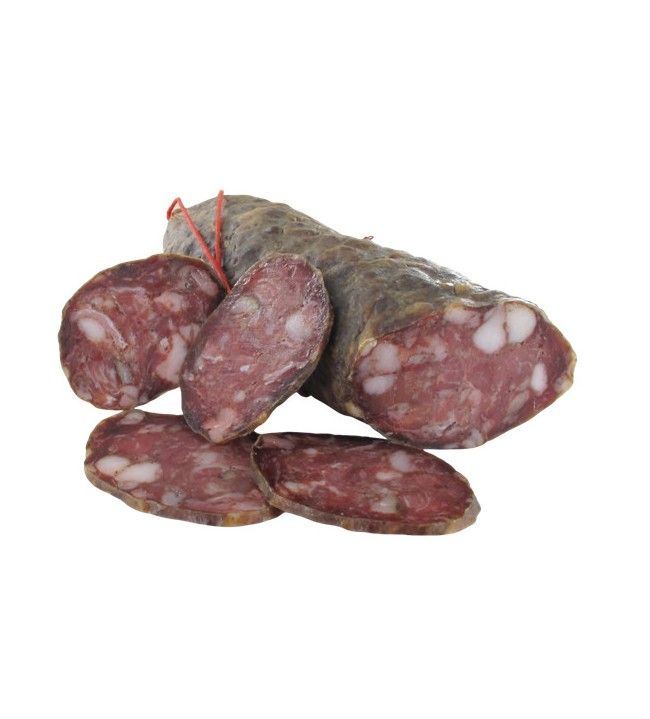  
Wild boar sausage
Composition: Wild boar meat 50%, lean and fat pork, salt, spices, sugar, preservatives, aromas.
Weight: 170gr.
Fresh vacuum-packed product for better preservation.
Wild boar sausage is a speciality of the Corsican deli. To be consumed in moderation.
Wild boar sausage, a special and inimitable flavor!
Wild boar sausage is made from wild boar meat (shoulder, ham) and pork. The mixture of these meats is precisely dosed to give you a sausage of character with a subtle and fragrant taste. This wild boar sausage is a popular product for deli lovers.
A rather simple tasting!
After drying it to your liking, the wild boar sausage is eaten raw in thin or thick slices. You can accompany it during an aperitif or an appetizer, a glass of red wine from the Orenga estate in Gaffory, a beautiful alliance! And for those to whom wine is not suitable, do not hesitate, opt for a Corsican beer.
Preservation of Corsican sausage.
Hang it in a dry, airy place or you can store it in the bottom of the refrigerator surrounded by a cloth or naked in a waterproof box. CouncilAbove all, don't wrap it in aluminum foil or clingfilm, the sausage needs to breathe.

I invite you to come and discover other flavours of our terroir, Corsican deli meats or Corsican cheese
A proposal that does not refuse!

CorseBoutique, the best of Corsica. Thank you all!
Data sheet
Net weight

≃ 170g

Packaging

Under-vacuum