Recipe for Corsican Cacavellu (Cacavelli)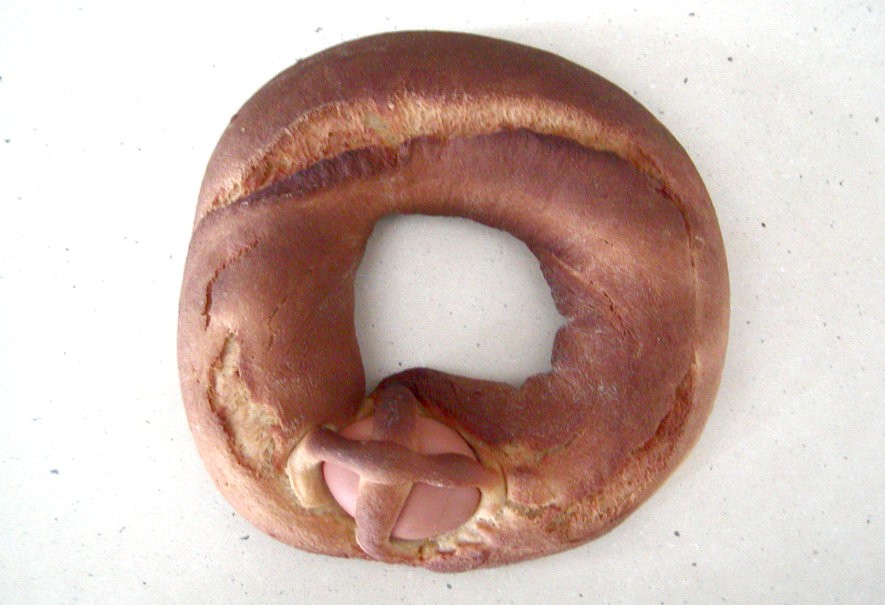 Cacavellu is an emblematic cake of Corsican Easter festivities. It is often shared with family and friends at Easter meals to celebrate the end of Lent. Traditionally, it is flavored with aniseed and citrus zest, and accompanied by a whole raw egg, a symbol of life and rebirth, enclosed in braces on the pastry. Once out of the oven, it becomes a hard-boiled egg, fit for eating. If you visit Corsica during this period, it's highly likely that you'll have the opportunity to enjoy this delicious cake in a warm and festive atmosphere. Today, I present the recipe for cacavellu. Please let me know what you think in the comments.
Ingredients for 6 people
500g flour
60ml warm water
20g fresh yeast
4 eggs
80g soft butter
160g caster sugar
20g aniseed
zest of a large lemon
Preparation of the Cacavellu
(Total time: 35min = Preparation: 15min + Cooking: 20min)
Step 1: Add the flour and sugar to a bowl and mix.
Step 2: Add 2 eggs and the yeast (diluted in warm water) and mix.
Step 3: Add the soft butter and mix by hand.
Step 4: Add the aniseed and the zest of a large lemon and mix again.
Step 5: Work the dough into a ball on your work surface for 5 minutes.
Step 6: Flour the bowl and place the dough inside, cover with a damp cloth and leave to rise for 4 hours at room temperature.
Step 7: Form a long sausage and set aside a small piece of the sausage.
Step 8: Shape the sausage into a circle and place on your baking tray.
Step 9: Brush the yolk of the 3rd egg over the dough.
Step 10: Place the last egg on top of the boudin, retrieve your reserved piece of boudin and form 2 lattices with it to enclose the egg.
Step 11: Preheat your oven to 200°C and bake for 35 minutes. (Don't hesitate to push the baking time, the cacavellu should be cooked through, more than golden brown)
Step 12: Remove the cacavellu from the oven and leave to cool for 15min. Now it's ready!
Tasting
You can enjoy your cacavellu with coffee, tea, soda...
Storage
If you haven't finished your cacavellu, you can store it in a tin for 3-4 days.
To conclude, I wish you a good day or evening and invite you to come and discover other equally gourmet recipes. And for those of you who don't have the time, don't hesitate to visit our Corsican products boutique, where you'll find a wide range of traditional products. CorseBoutique, the best of Corsica. Thanks to all of you!
Comments
Leave your comment