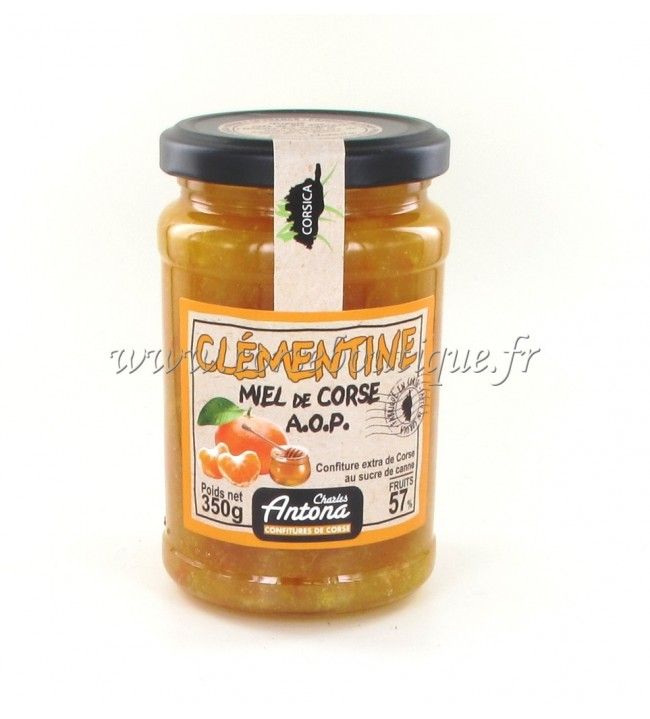  
Clementine jam with Corsican honey A.O. P 350 GR
Clementine jam with Corsican honey A.O. P 350 GR 
Clementine jam with Corsican honey A.O. P 350 GR
Our jams are prepared without too much glucose, just good fruit and sugar cane, simply!
Naturally gorged with sunshine, the Corsican extra jam from Charles Antona to La Clémentine and Corsican honey A.O. P is a real concentrate of vitamins with subtle flavors. The clementines of this recipe benefit from the European label; original and quality sign, PGI (protected geographical indication). To be tasted ideally on slices of toast for a gourmet break.
Prepared with 57 g of fruit for 100 g. total sugar content: 60 g for 100 g.
Ingredients: clementines, canne47% sugar, Corsican honey A.O. P 1%, gelling agent: fruit pectin.
Made in a workshop using nuts and milk. Keep cool after opening.
Despite all our care, this jam can contain glitches. Net weight 350g
Nutritional statement for 100 g
Energy: 1052 KJ/248 kcal
Fat 0 g (of which saturated fatty acids) 0 g
Carbohydrates 60 g (of which sugars) 60 g
Protein 1.1 g
Salt 0.02 g
Data sheet
Net weight

350g