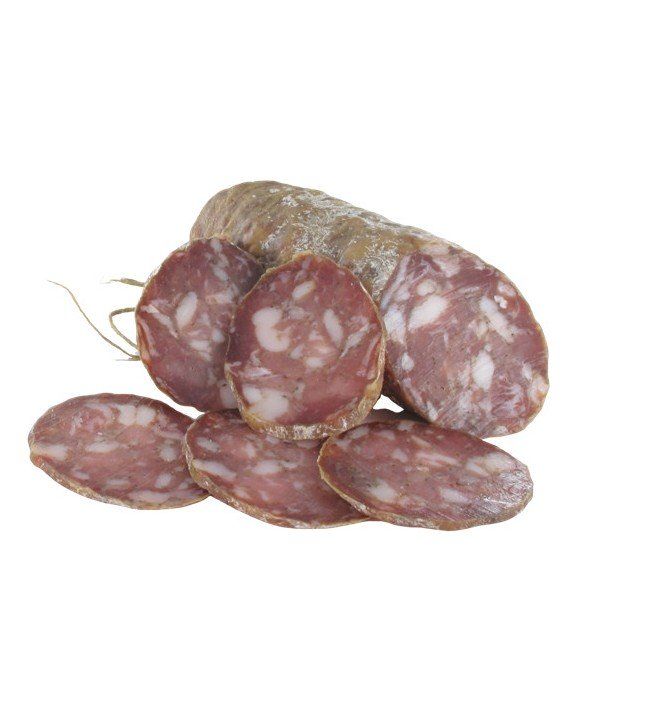  
The Sausage
The Sausage, The Corsican Sausage
Tasting: Eaten raw, thinly sliced or thick
About 200g piece.
 
The Corsican sausage
Preparation: Drying for at least 5 weeks.

Tasting: Eaten raw, thinly sliced or thick. (Appetizers, hors d'oeuvres, picnics).

Composition: Low and fat pork, salt, spices, sugar, E252, aromas.

About 200g piece.

All of our fresh produce is vacuum-packed for better preservation.


Sausages are made with meat with spices. The sausages are then lightly smoked over a wood fire and then refined in cellars for about three months. The consumption of sausages depends on their degree of maturity.

We have a speciality: wild boar sausage. Of course, we don't just use wild boar meat. This one is far too strong so we have developed the optimal mixture between wild boar and pork to give you a sausage with an inimitable taste.

How to taste them?

Sausages can be enjoyed raw as an aperitif or at the entrance.
For the aperitif, you can accompany them with green olives. At the table you can serve them with a knob of butter or pickles.
Sausages can also accompany the sauce of your stews or lentils.

What's with them?

Sausages go very well with various deli plates. However, for purists, we recommend tasting with old cheese and fig jam. A heady red wine will be the highlight of the tasting.
Tips

The preservation of your sausage will be optimal if you place it in a cool and airy location. Incidentally, you can place it in the door of your refrigerator.
For the aperitif, peel the sausage and cut it into thin slices and place in the refrigerator an hour before serving.

To serve the sausage as a starter or on a plate of deli meats, it is recommended to practice in the same way but with slightly thicker slices.

Finally, the Corsican sausage is the favourite when doing activities in nature. On the island, its tasting in nature is a moment of conviviality and sharing that seals the friendship within the group. The spuntinu (or snack) is the time of reunion with friends both in work and in leisure.

Traditional Corsican charcuterie made in the heart of the mountain of central Corsican.
Data sheet
Net weight

≃ 200g

Packaging

Under-vacuum