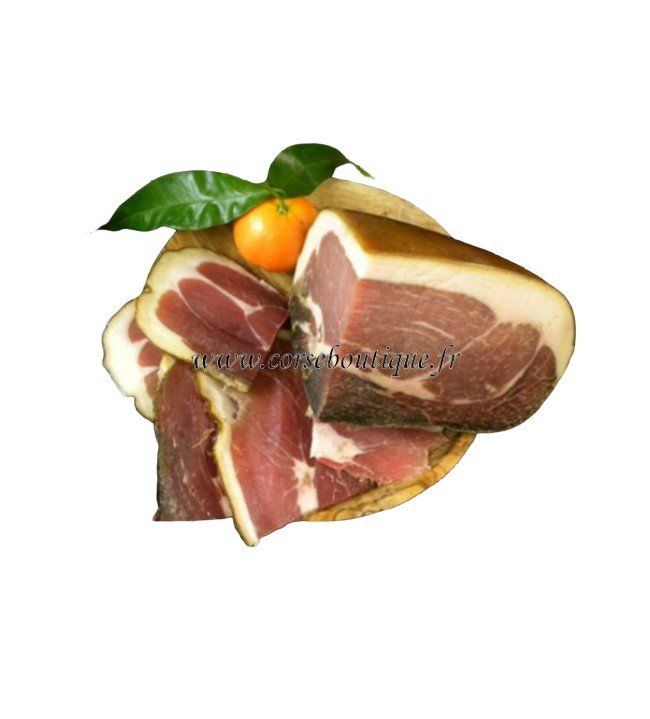  
Prisuttu
Composition: Pork ham, salt, then slightly smoked.
Weight: ~700g
Fresh product vacuum packed for a better conservation.
The Prisuttu is a speciality of the Corsican pork-butchery. To consume with moderation.
The Prisuttu, a king piece!
Prisuttu is made according to a very specific process. The ham is drained of its blood, the nerves and excess fat are removed. Then the ham is salted, lightly smoked and matured in a cellar for 12 to 24 months. During this phase of processing, the Corsican Prisuttu is checked regularly to ensure its quality throughout the maturing process.
To know: Only two prisutti are obtained per pig, so it is very important to take care in its manufacture.
But how to taste Prisuttu?
Prisuttu is a cured ham that can be enjoyed on its own as an aperitif or as a starter with a glass of "Orenga de Gaffory". If you opt for a plate of cold meats, it will go perfectly with gherkins, coppa and lonzu.
Do not hesitate to use it for your sandwiches (at home, during your hikes...), in this case it is advised to cut rather thick slices. The prisuttu becomes very dry, no problem, you can use it to make stews. (You can find the recipe below). Finally if you have a whole Corsican ham and it arrives on the end, use the bone to give taste to your tomato sauce. An incomparable flavour.
Cool idea: In the summer when it is very hot, I suggest you serve it with a very cool Corsican rosé wine.
The conservation of Prisuttu?
I advise you to store your Corsican ham in a cool, dry and airy place in order to preserve it in the best conditions.
Some Corsican recipes based on Prisuttu:
Corsican stew with prisuttu and loin (6 people):
500g of noodles, 600g of pork loin, 150g of prisuttu, 300g of tomato pulp, 20cl of white wine, 10cl of poultry stock (prepared), 200g of onions, 150g of green olives (pitted), 2 tablespoons of olive oil, 1 tablespoon of chopped parsley, 100g of grated Corsican cheese, salt, pepper.
1. Peel and slice the onions. Then cut the loin into a large cube 2cm wide and the prisuttu into thin strips.
2. In a large saucepan, heat the olive oil and fry the onions and prisuttu strips for a few minutes. Set aside.
3. Then, still in the large saucepan, brown the cubes of pork loin over high heat, add salt and pepper.
4. Once golden, add the wine and cook over high heat for 2 to 3 minutes, stirring constantly.
5. Then add the tomato pulp, chicken stock, onions, strips of prisuttu and mix.
6. Cover the pan and simmer for 45 minutes over medium heat. Stir regularly.
7. After 45 minutes, add the pasta (uncooked), stir and cook for 20 minutes until the broth is fully absorbed by the pasta. Stir regularly.
8. After 20 minutes, add the olives and continue cooking for another 5 minutes.
9. It's ready, everyone to the table!
Chicken with prisuttu (4 people):
4 chicken breast, 4 thin slices of prisuttu, 1 onion, 2 cloves of garlic, 200g of brocciu, 5cl of dry white wine, 5cl of water, 3 tablespoons of olive oil, salt, pepper.
1. Peel and chop the onion and fry in a pan with 1 tablespoon of olive oil for 3 to 5 minutes.
2. Cut the chicken breasts in half to form 8 cutlets and flatten them between 2 sheets of cellophane.
3. Crush the brocciu with a fork and mix with the warmed onions and pepper to create the stuffing.
4. Place half a slice of prisuttu on each cutlet, then the stuffing and finally roll the cutlets. Hold the whole thing together with a roasting twine, tightening it well.
5. In a large frying pan and the remaining olive oil, brown the rolls for 10 minutes, turning them regularly. Season with salt and pepper.
6. Add the pressed garlic cloves, white wine and water. Cover and cook for 15 minutes over low heat.
7. It's ready, enjoy!
I invite you to come and discover other flavours of our land, the Corsican charcuterie or the Corsican cheese!
An offer that cannot be refused!
CorseBoutique, the best of Corsica. Thanks to all of you!
Data sheet
Net weight

≃ 700g

Packaging

Sous-vide